MODERN LUBRICATION
the first film-forming ever produced before
OUR ENGAGEMENT
since 1988
DYNAMIC CIRCUIT
of any type
The birth of the A9 TECHNOLOGIY is one of the major advances in the world of modern automotive lubrication and more generally for all dynamic lubrication systems using oil to lubricate moving mechanical parts.
Certified ISO 9001-2008 & ISO 14001-2004
The productions of our company benefit from all the manufacturer's guarantees required so that the vehicles and the industrial installations work in the best conditions.

Sustainable development is an integral part of our company's values. The planet has finite resources and it is essential to pay the utmost attention to them by avoiding waste.

Buying a vehicle and maintaining it is a major investment. It must therefore be ensured that fuel consumption, vehicle wear and the expense of maintaining it do not become impossible to bear. Navigating the same route with less fuel and extending the life of vehicles to avoid the additional use of natural resources are among our central concerns.

It is commonly accepted that our civilization can not continue to produce and consume as if our natural resources were unlimited. It is from this observation that the entire range of products containing the A9 TECHNOLOGY® has been developed.

Valuing existing resources and reconciling responsible growth and attitude are the bases of our approach.

Sustainable development reflects our society's practical commitment for a socially equitable future, environmentally responsible and economically viable.

We work daily to achieve goals of excellence on all of these topics.

MEETING IN CHINA
on sustainable development with A9 TECHNOLOGY

REDUCTION
fuel consumption & maintenance costs

PROTECTION
air quality & respect for the environment

DEVELOPMENT
& ongoing training of our teams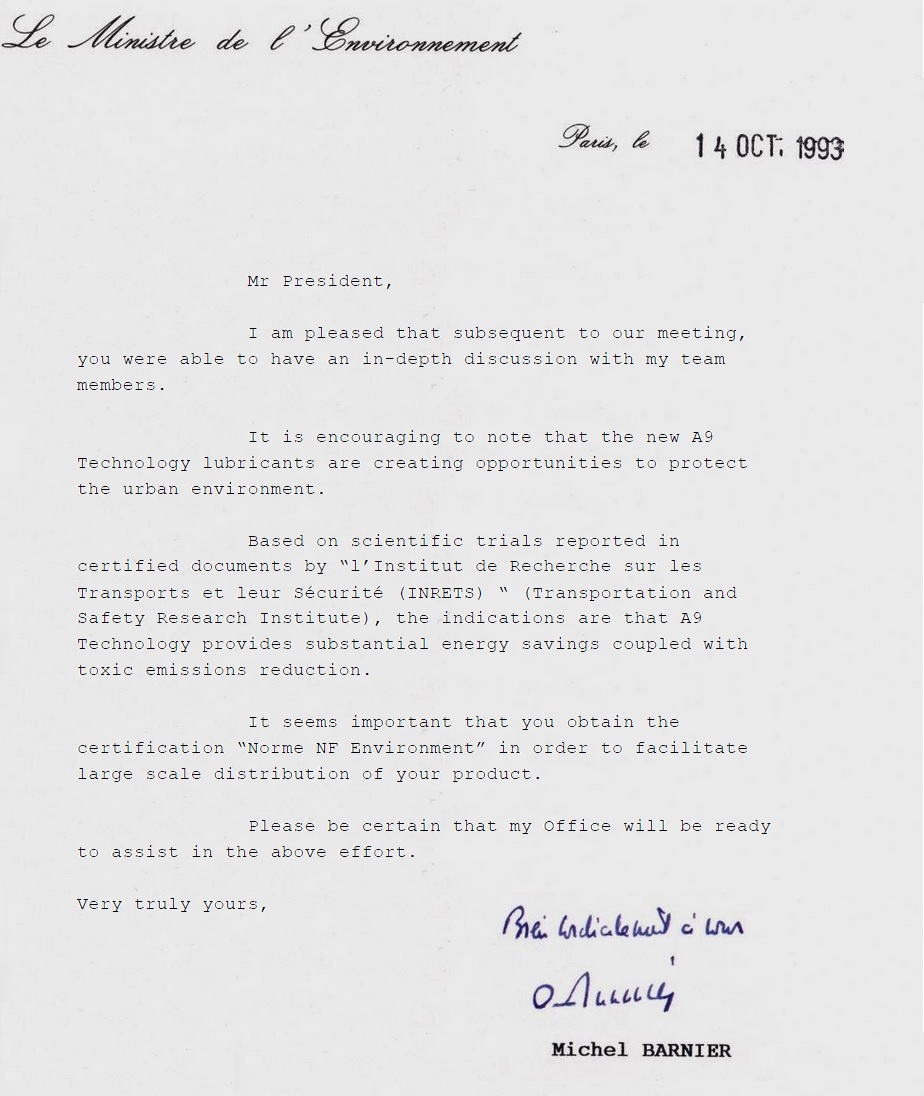 ENVIRONMENT
Michel Barnier Minister of Environment